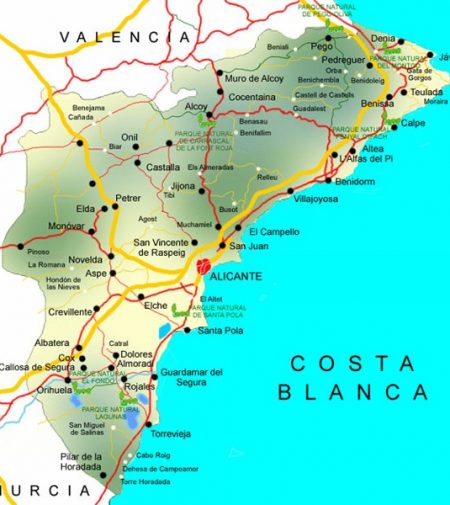 Before you start looking for your home, take the time to determine exactly what you want. Are you looking to move to Spain, are you looking for an investment property or just a holiday home for your own use? Whatever you are looking for, at Dreamhomes Spain we have a wide range of properties between which you can always find a home that meets your requirements. If we do not have your dream home in our offer, we will search for you through our network of collaborating partners.
Before buying a holiday home or a second home in Spain, you need to determine the budget you want to spend on it. Keep in mind that there are about 13% fees on top of the purchase prices you will find on websites and in brochures. 10% transfer tax on the purchase of a second-hand home or 10% VAT on the purchase of a new-build home (this percentage may vary regionally) For lawyer, notary fees and registration in the land registry, you must take into account about 3% of the purchase price. If you take out a mortgage on the house, the closing costs are 2% of the mortgage amount. If you are going to build off plan, the costs for the building permit are approximately 2.5% of the value of the house, as determined by the contractor.
As a general rule, you should expect an additional 13% over and above the stated purchase price to cover the various taxes and legal fees, or 15.5% if you need a mortgage.
Spain is a very large country, and limiting your search to a specific region can save you a lot of effort, time and money. Make sure you know where you want to go in advance. After all, the different regions have their own specific characteristics. The most popular region with foreign buyers is undoubtedly the Costa Blanca, because of the pleasant climate. It is slightly less humid than on the Northern Costa Brava, and slightly less warm than on the Southern Costa del Sol. Accessibility is optimal via 2 airports (Alicante and Murcia), the AP-7 motorway, and the high-speed train. The region has modern shopping centers, countless bars and restaurants, modern and renowned hospitals, good schools, extensive beaches and idyllic bays, medium-high mountains, suitable for walkers and cyclists, and beautiful nature. In this region, house prices are also usually slightly lower than in other tourist areas of Spain.
When you buy a property in Spain, it is important that you know in advance what the destination of the property will be. Are you buying a house as an investment project with the intention of renting it out? Are you buying a holiday home? Or do you buy a house to stay permanently in Spain?
If you buy as an investment project for holiday rentals or as your own holiday home, you may prefer a location close to the beach and close to all amenities.
Locations near the beach usually have a higher rental value.
If you want to rent out your home for a long term or want to live in Spain yourself, you may prefer a slightly quieter location, but still close to all amenities. Inland locations are slightly cheaper than homes near the beach.
Or maybe you opt for a more secluded stay in the Spanish interior where you can enjoy the peace and nature.
If you are moving to Spain for medical reasons, you may want to choose a location that is not too far from the local medical facilities. A location in the vicinity of the salt lakes has a positive influence on your health.
Once you have found the perfect location, spend some time getting to know the region better. On the internet you will find extensive information in your own language. But text and photos don't say it all. Take a vacation trip to the region at different times of the year and talk to fellow countrymen who preceded you to exchange experiences. Don't be tempted to make hasty decisions.
You may not have enough of your own resources to buy your dream home, or you may see a property that is higher in price than your budget estimate during your exploration.
In that case you need a mortgage. You can take out a mortgage with a Spanish bank, but it is worthwhile to first inquire with your own bank in your country of origin. You may be able to borrow on the equity of your property in your home country in which case the conditions may be better than the conditions of the Spanish banks.
The conditions for mortgages in Spain differ depending on whether you are already a resident. In most cases you will be a non-resident. In that case, the Spanish banks finance up to 60 to 70% of the appraised value of the property, depending on your own financial situation.
Do not be fooled by slogans such as "110% mortgage possible". That is past tense. The Spanish banks have come back to reality because of the 2008 financial crisis, and the amount you can borrow is being looked at realistically.
In general, we can state that you will have to be able to finance 30 to 40% plus the costs of the buyer from your own resources.
Choosing a real estate agent
In a tourist attractive region there is always an oversupply of real estate agents. Unfortunately, this also means that some less honest people are active on the real estate market.
When choosing a real estate agent, make sure that he is certified, that his website states an address, and ask whether he has liability insurance.
To avoid problems, it is best to work with a certified real estate agent who is affiliated with one of the Spanish professional associations.
Dreamhomes Spain is affiliated with and recognized by the GIPE – CEPI and AIPP, which means that we adhere to a professional code of conduct and act with honesty, integrity, and transparency. Buying through an AIPP member means that you are assured that we must act professionally as a member and that you can turn to the CEPI when a problem arises.
Of course it is not advisable to buy a house abroad from a distance.
It is best to plan a trip to Spain to view some properties. It is not obvious that you independently find your way in the tangle of real estate agents, advisers, properties, prices, legal assistance, etc.….
You can book a personal viewing trip with Dreamhomes Spain. These trips generally last four days (but can be extended on your request).
In advance we discuss your needs and desires, your budget, and the houses you want to view. We will pick you up at the airport and bring you to your hotel or rented accommodation, we will visit a number of locations that suit your needs, provide you with all the nescessary information, answer all your questions, and we will bring you back to the airport at the end of your trip.